Is Sports Betting Legal in Louisiana?
Yes, the Pelican State has officially approved all forms of sports betting, with both online and retail sportsbooks now live. LA held a referendum on sports betting in November 2020, giving voters control over whether or not to allow sports betting. However, the state took a unique approach to its new legislation. Instead of state-wide approval, the laws needed to be approved in individual parishes.
A total of 55 parishes out of 64 voted to approve sports betting, with only Caldwell, Catahoula, Franklin, Jackson, La Salle, Sabine, Union, West Carroll, and Winn being unwilling to accept the laws. If you live in one of these parishes, you can still bet, but only if you visit another parish to do so. Retail sportsbooks can only be found in legal parishes, and online sportsbooks use geofencing to restrict users from betting while in parishes that don't allow legal betting.
Legal Louisiana Sports Betting Timeline
2019 – Efforts are made to legalize sports betting at the state's casinos and racetracks with bill SB 153. However, it failed to take hold, with many lawmakers opposed to it.
2020 – Several new proposals for legal sports betting are made, but none can be agreed on. In the end, Senator Cameron Henry put the issue to a public vote in November, with the vote decided on a parish-by-parish basis. 55 out of 64 parishes agree to legal sports betting.
2021 – The Louisiana Gaming Control Board draws up regulations and approves the first licenses for retail sportsbooks to open in the state. The first legal bets were placed in October 2021
2022 – After a long wait, January 28 sees the first online sportsbooks go live. Up to 20 sports betting licenses are available, with two skins per license, meaning a total of 40 online sportsbooks could launch in LA.
LA Sports Betting at a Glance
| | |
| --- | --- |
| Louisiana retail sports betting legal status | Legal and live |
| Louisiana online sports betting legal status | Legal and live |
| Louisiana online sports betting launch date | January 28, 2022 |
| Louisiana sports betting regulator | Louisiana Gaming Control Board |
| Number of sportsbook licenses available | Up to 20 licenses but up to 40 betting sites |
| Total bets placed in first month | $27.6 million |
| Sportsbook tax rate | 15% |
---
Top Rated LA Sportsbooks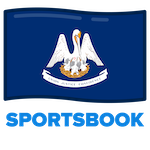 Since online gambling was officially approved in the state, several sportsbooks have had their licenses approved by the Louisiana Gaming Control Board. We've tested out each one personally to find the best and give you our recommendations.
Here are out favorite legal LA sportsbooks currently available:
BetMGM – Excellent betting interface
FanDuel – Very intuitive mobile app
DraftKings – Great for first-time bettors
Caesars – Lucrative welcome bonus
WynnBet – Great promotions
Points Bet – Excellent market variety
BetRivers – Fun loyalty rewards
Bet365 – Excellent live betting
---
What to Consider When Choosing a Legal Sportsbook
With up to 40 different sportsbooks to choose from in LA, you'll have plenty of options. It's important to pick a site that you can trust and that gives you the best possible experience. Here are some of the key things you should look out for when deciding on a sportsbook to join:
Reviews
We review all legal Louisiana sportsbooks and give you the data you need to make an informed choice. Our review team joins each site and tests them out to find out what features are available and what you can expect when you create your account. We recommend reading through our reviews before you choose your next sportsbook.
Bonuses
Bonuses make betting more exciting, and all of our top-rated LA sportsbooks offer some kind of promo for you to use. Welcome offers are the most common and are claimed simply by signing up and making your first deposit. A lot of sportsbooks also offer regular betting bonuses and loyalty rewards, which are just as easy to claim. Make sure that any site you join has fair and fun promotions for you to enjoy.
Odds and Lines
Odds and lines can vary a lot between sites, with the best value to be found at the best sportsbooks. These make a big difference to your betting experience, as they affect how much profit you can make from each bet you place. Before you create your sportsbook account, check to see what odds are available and how they compare to other top-rated sites.
Sports and Markets
Most bettors have a preference for the sports and markets they like to bet on. If you want to have fun while betting online, it's important to choose a site that accepts bets on the sports you love the most. In addition, having a greater variety of markets gives you more opportunities to find value. Compare the availability of sports and markets before joining a sportsbook to find the right site for you.
Usability
Usability is the overall feel of a site and how easy it is to use. Signing up and placing bets should always be simple, and you want to choose a sportsbook that works well on all devices. The best sportsbooks offer apps for you to download and have simple betting interfaces that make it easy for you to find events and place bets without any hassle. You can test out usability for yourself, searching through a sportsbook before you sign up to see how it feels.
Payments
To bet with real money, you'll need to link a payment method and make a deposit to your betting account. This process should be fast, secure, and simple, allowing you to easily add funds and start placing bets. In addition, the best sportsbooks make it simple for you to withdraw your winnings with no fees or limits.
Customer Support
While it's rare to run into issues while betting online, it can happen, and it's good to know that you can contact customer support if you ever have a problem. The best sportsbooks offer several different contact methods and 24/7 support.
---
How to Join a Louisiana Sportsbook
Getting started with sports betting and creating your sportsbook account is a lot simpler than you might think. All of our recommended LA betting sites allow you to sign up in just a few minutes. All you need to do is follow these steps:
Make sure you're in a parish with legal sports betting
Choose from one of the sites licensed in the state
Visit the site or download the app
Start the sign up process by entering your details
Agree to the site's terms and conditions
Verify your age by uploading your ID
---
Why Choose a Sportsbook Licensed in Louisiana?
While sports betting has only recently been approved in the state, some sports fans have been betting online for some time. There are many offshore sites out there that accept players from across the country, even those that live in states that haven't legalized online betting. While it may be tempting to use these offshore sites, it's important to only ever use licensed sportsbooks if you want to stay safe.
Using a licensed sportsbook means:
You're not breaking any laws
Your money is safe due to regulations
Your winnings are guaranteed
Sportsbook profits are taxed and used to benefit local communities
To check for a license, you can read our reviews or look for the Louisiana Gaming Control Board logo on the site before you join.
---
Louisiana Sports Betting Promos Explained
One of the best parts of signing up to a new betting site is claiming the cash bonus. All of the licensed betting sites in Louisiana offer welcome bonuses to new users, which you can claim simply by signing up, making a deposit, and placing your first bet. These promos are offered as a way of encouraging people to sign up and start betting, and they're a great way to get more value out of your bets.
According to our research, some of the most common bonuses you can expect include:
| | | |
| --- | --- | --- |
| Bonus | Example | Explanation |
| Matched deposit bonus | 100% bonus worth up to $500 | You receive a $500 bonus if you deposit $500. |
| No deposit bonus | $50 bonus | Claim a free reward simply by signing up. |
| Risk-free bet | $250 risk-free bet | Your stake of up to $250 is refunded in bet credits if your bet loses. |
| Bet credits | $100 in bet credits | Use these credits in your betslip in place of real cash. |
Before you claim a bonus, it's important to understand how to claim it and how to get the most out of it. We recommend always reading through the full terms and conditions. You can also find all details of each bonus offer in our sportsbook reviews, as we test each offer out to let you know which ones are worth claiming.
Some of the most common bonus terms you'll come across when claiming your sportsbooks promos include:
| | | |
| --- | --- | --- |
| Terms and Conditions | Example | Explanation |
| Wagering requirement/rollover | 25x | Complete the wagering to withdraw your bonus |
| Promo code | BONUS10 | Enter the promo code when making a deposit to claim your bonus |
| Minimum deposit | $20 | Deposit at least this amount to claim the bonus |
| Minimum bet | $10 | Make a bet of at least this amount to claim the bonus |
| Minimum odds | -200 | Make a bet at these odds or greater to claim the bonus |
---
Your Guide to Sportsbook Deposits
Once you've created your betting account, you'll need to make a deposit to get started. Thankfully, the process of adding funds to your account is a lot easier than you might think. Our recommended sportsbooks all make it simple for you to deposit. All you need to do is follow these steps:
Log into your betting account
Go to the cashier section and choose the deposit option
Select your preferred payment type from the options provided
Enter your payment details and confirm the amount you want to add
When you make a deposit, the funds should arrive in your account instantly. Some sportsbooks have limits on how much you can deposit, as well as a minimum deposit amount. According to our research, the minimum deposit is normally $10, though it can vary depending on the site you choose.
The best sportsbooks give you a range of different payment methods to choose from, including:
Online banking
Debit/credit cards
Wire transfer
ACH/eCheck
PayPal
Paynearme
No matter what method you use, your deposit will always be credited instantly to your account.
---
Louisiana Sportsbook Payouts
If you have enough cash in your account, you'll be able to withdraw it at any time. The withdrawal process is similar to making a deposit, but the time it takes to receive your money is usually longer. Once again, there's a minimum amount you'll need to withdraw, and some sites have maximum limits too.
Here's a quick guide to collecting your first sportsbook payout:
Log into your account and go to the cashier section
Select the withdrawal option and choose your payment method
Note that you can only make withdrawals using a payment method that you previously used to deposit with
Enter the amount you'd like to withdraw, making sure it's over the minimum amount
Confirm your withdrawal to complete the process
Withdrawal times vary depending on the method you use and the sportsbook itself. Based on our research, Louisiana sportsbooks all aim to process withdrawal requests within 48 hours. Here's a rough guide on average payout times based on the payment method you choose:
| | |
| --- | --- |
| Payment Method | Withdrawal Time |
| Debit card | 1-5 days |
| PayPal | 30 minutes to 24 hours |
| Bank transfer | 1-7 days |
---
LA Sports Betting Requirements
Sports betting is now legal in the majority of parishes across the Pelican State. However, there are still restrictions on who and how you can bet. For example, you need to be at least 21 years old to create a betting site account or to place a bet at a retail sportsbook.
In addition, you'll need to make sure you're in a legal parish when you sign up or place any bets. Licensed sportsbooks in Louisiana all use geolocation software to check your location, so you won't be able to bet if you're currently in a parish where betting is still illegal. However, even if you live in one of these parishes, you can still drive over the parish lines to place a bet.
It's also worth noting that gambling winnings are taxed by the state of Louisiana. Not only do you need to pay federal taxes on any winnings from sports betting, but you'll also have to pay a 5% tax to the state.
---
Top Sports to Bet on in Louisiana
You can bet on a wide range of different sports in LA, including both professional and college teams. From what we've seen, the state is home to some extremely passionate fans, along with some very popular franchises in the major leagues. Some of the most popular sports to bet on in LA include:
Football is the biggest sport in the country, and the NFL attracts more wagers than any other sport. Online sports betting was made legal in LA just in time for the 2022 Super Bowl, which saw a huge number of bets being made. Most football fans in the state follow the New Orleans Saints, and while they haven't had much success recently, they're still a lot of fun to watch.
Basketball is almost as big as football in some parts of Louisiana, with plenty of fans following teams in the NBA. The New Orleans Pelicans are the home team of the Pelican State, and they last reached the playoffs in 2022. They've never won the Championship, but then again, the team was only created in 2002.
Baseball is very popular to bet on, as there are a huge number of games played every season. The MLB has more than 2,000 games a season, and most sportsbooks offer odds on international baseball leagues too. There's no LA baseball team, but it remains a popular sport, and many fans root for the Houston Astros.
College Sports
College betting is also legal in LA, with no restrictions on which teams you can bet on. This means you can bet on the Louisiana State Tigers throughout the season, with March Madness being one of the most popular events on any sports fan's calendar.
---
Louisiana Sports Betting FAQs
Is sports betting legal in Louisiana?
Yes, sports betting is now legal in most of Louisiana. However, some parishes voted against sports betting, so there are still some restrictions. If you want to place a bet, you must be in one of the 55 legal parishes to do so.
Where can I place bets in LA?
You can bet anywhere within a legal parish in the state though you must use a licensed sportsbook. To operate legally, sports betting sites need to be licensed by the Louisiana Gaming Control Board. Your device location will be checked by geolocation software when you sign up or log in.
Are there restrictions on sports betting in Louisiana?
To bet legally in LA, you'll have to be at least 21 years old. In addition, there are nine parishes in the state that still consider sports betting illegal, so you will need to be in one of the 55 legal parishes when you place your bets.
Can I claim sports betting bonuses in LA?
Yes, all of our recommended betting sites offer promos for you to enjoy when you first sign up. You can find the full details on how to claim each offer in our sportsbook reviews, and we cover both welcome bonuses and regular player offers.
Is it safe to bet online?
Betting online is safe, provided you use a licensed and trusted sportsbook. It's important to use licensed sites as these are safe, legal and protect your personal information. For added safety, we also recommend you use a secure payment method.
Sources