Is Sports Betting Legal in Illinois?
Sports betting was officially legalized in Illinois on June 28, 2019, with Governor J.B. Pritzker signing it into law. The original attempts to pass sports betting bills had failed, but the final attempt saw lawmakers include sports betting legislation in a 900-page capital bill.
While the law was approved in 2019, it would take several months before the first legal bets were placed. The Illinois Gaming Board took its time to draw up regulations and approve licenses. Eventually, though, the first retail sportsbooks started accepting bets in March 2020 before the first online sportsbook launched in June of the same year.
Timeline of Illinois Sports Betting
2019 – Governor J.B. Pritzker includes sports betting revenue as part of the state's budget in an effort to encourage lawmakers to agree to legalize betting. Several sports betting bills are attempted before a compromise is reached.
2020 – The first retail sportsbooks open their doors in March, although it's short-lived due to the pandemic and subsequent shutdown. In June, the first licensed online betting sites launch, and the initial requirement of bettors to sign up in person is paused temporarily.
2021 – The Illinois General Assembly votes to overturn the requirement to sign up in person. Online sports betting handles throughout the state continue to increase as a result.
IL Sports Betting at Glance
| | |
| --- | --- |
| Illinois retail sports betting legal status | Legal and live |
| Illinois online sports betting legal status | Legal and live |
| Illinois online sports betting launch date | June 18, 2020 |
| Illinois sports betting regulator | Illinois Gaming Board |
| Number of sportsbook licenses available | 23 in total, with just three online-only |
| Total bets placed in first month | $1.6 billion |
| Sportsbook tax rate | 15% |
The Best Illinois Sportsbooks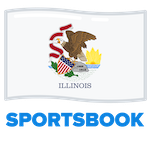 With up to 23 licenses available from the Illinois Gaming Board, there could potentially be a lot of sportsbooks available in the state. Already, multiple retail and online books have gone live, and you have a lot of choices when thinking about where to bet. Here are some of the best IL sportsbooks based on the research we've made:
DraftKings – Best for new bettors
BetMGM – Best for live betting
BetRivers – The best for loyalty rewards
FanDuel – Best for mobile betting
Caesars – Best welcome bonus
PointsBet – Best betting markets
---
Choosing the Best Sportsbook in IL
When it comes to choosing a sportsbook, it shouldn't be a gamble. You should be looking to join the best possible sports betting site, as you want to have the best possible betting experience. There are lots of IL sportsbooks to choose from, but if you compare sites using the right criteria, you'll find the best site for you.
Reviews
The easiest way to find the right sportsbook for you is to check out online betting site reviews. Our review team carefully tests out each available IL sportsbook, signing up to each and evaluating the features that they offer. You can use our reviews to quickly compare sites and choose the one that offers the best possible betting experience.
Bonuses
All of the current sportsbooks available to IL bettors offer promotions and bonuses for you to make the most of. These bonus offers give you an incentive to sign up while also making betting more exciting. Before you join, compare bonus offers at our top-rated sites and see which offer you like best. Be sure to always look at the terms and conditions too.
Odds and Lines
Odds offered by a sportsbook will affect how much profit you can win, with higher odds meaning greater winnings. Likewise, better lines give you a better chance of success when placing your bets, so it makes sense to always look for the best in both. There's often quite a bit of variance between sportsbooks when it comes to odds and lines, and comparing before you bet can help you make more money.
Sports and Markets
All of the IL sportsbooks we've reviewed allow you to bet on loads of different sports. You can bet on all of the biggest leagues and events in the US, including the NFL, NBA, MLB, and NHL. The best sites also offer legal college betting and betting on events from around the world. A greater variety of sports and markets gives you more opportunities to place winning bets.
Usability
Usability is an important factor if you want the best betting experience. It's important to find a site that allows you to sign up quickly and easily without any issues. Not only that, but it should also be easy to find your way around, place bets and use the sportsbook. You should always test a site out before you sign up, using whichever device you're most likely to bet with most of the time.
Payments
The payment process can be daunting if you're new to the world of online betting, but the best sportsbooks make it as simple as possible. When we test out a betting site, we look at the data related to deposits and withdrawals and provide this information in our reviews to help you compare.
Customer Support
Don't forget to consider customer support when you're choosing a sportsbook. The best sites we've tested all provide fast and responsive customer support, providing quick answers to any issues you may have. It's good to be able to rely on this if you need it, and it's a sign of a reputable and trustworthy site. Top-rated sportsbooks provide live chat and other contact methods for you to use.
---
Illinois Sports Betting Guide
If you're new to the world of betting on sports online, it may seem a bit confusing at first. There are a lot of different things to understand before you get started. Thankfully, we've provided this guide to help you, giving you all the information you need to sign up, make a deposit and start betting.
How to Sign Up to a Sportsbook
Note that you can now fully sign up to sportsbooks online in IL. Previously there had been a rule stating that you could only join an online sportsbook by registering at a retail sportsbook in person. To create your account, all you need to do is follow these steps:
Choose one of the legal IL sportsbooks using the data in our reviews
Visit the site or download the app
Make sure you're currently in Illinois
Sign up by entering your details and verifying your age and location
Agree to the site's terms and conditions to finish setting up your account
Illinois Deposits Explained
Before you can start betting, you'll normally need to add some funds to your account first. Connecting your payment method and depositing funds might seem daunting, but our recommended IL betting sites make it as straightforward as possible. We've also created this short guide to help:
Log into your account
Got to the cashier section and choose "deposit" or "add funds"
Choose your preferred payment method
Enter your details and the amount you'd like to add
Confirm the payment to instantly receive the cash in your account
Most IL betting sites have a minimum deposit of $10, but this can vary. No matter which site you use or your preferred payment method, your funds should arrive in your account instantly. Commonly accepted payment methods include:
Online banking
Debit/credit cards
Wire transfer
ACH/eCheck
PayPal
Paynearme
IL Sports Betting Promos
Part of the fun of signing up to a new sportsbook is claiming your welcome bonus. All of the sites we've recommended offer bonuses for new users, and there are regular promotions up for grabs too. Before you sign up, it's important to understand the bonus and what it means. Here are some of the most common offers you can find based on our data on IL sportsbooks:
| | | |
| --- | --- | --- |
| Bonus | Example | Explanation |
| Matched deposit | 100% bonus up to $1000 | Your first deposit is matched 100% up to the max amount. |
| Risk-free bet | $250 risk-free bet | Your stake is refunded up to a set amount if your bet loses. |
| No deposit bonus | $50 free bonus | You receive a bonus in your account simply for signing up. |
| Bet credits | $100 in bet credits | You can use these credits in place of real money, keeping any winnings. |
| Odds boost | Boost your winnings by 25% | Increases your potential winnings from any bet you place. |
Any bonus you claim will always come with terms and conditions, which affect how the offer can be used. Before claiming, we recommend that you always read through these carefully. Understanding the terms is key to getting the most out of your cash bonus. Here are some of the most common bonus terms and conditions you're likely to see:
| | | |
| --- | --- | --- |
| Terms and Conditions | Example | Explanation |
| Wagering requirement/rollover | 25x | Complete the wagering to withdraw your bonus. |
| Promo code | BONUS10 | Enter the promo code when making a deposit to claim your bonus. |
| Minimum deposit | $20 | Deposit at least this amount to claim the bonus. |
| Minimum bet | $10 | Make a bet of at least this amount to claim the bonus. |
| Minimum odds | -200 | Make a bet at these odds or greater to claim the bonus. |
Placing a Bet at an IL Sportsbook
Once you've claimed you're bonus and have funds in your account, you can start placing your first bet. Here's a quick guide on how it works:
Search for a team or event or look through the sports on the main page to find what you want to bet on
Scroll through the available betting markets to find something you like
Remember to use the available data and research to make an informed bet
Select the market to add to your betslip, then enter your stake
Confirm your bet and watch live to see if you're a winner
How to Claim Your Betting Payout
If you've made some winnings or you just want to withdraw some of the cash from your account, you can request a withdrawal at any time. According to the data we've collected on IL betting sites, most sportsbooks have a minimum withdrawal amount, which is usually around $10. So you will need to have at least $10 in your account before you can withdraw.
Here's a guide to how the payout process works:
Log into your account and go to the cashier section
Choose the withdraw option and select your payment method
In most cases, you can only make a withdrawal using a method that you've previously used to make a deposit
Enter the amount you'd like to withdraw and confirm the payment
You'll have to wait for your sportsbook to process the request, which is normally complete within two working days
The exact time it takes for your funds to reach you will depend on the payment method you choose
Here are some average payout times for commonly accepted withdrawal methods:
| | |
| --- | --- |
| Payment Method | Withdrawal Time |
| Debit card | 1-5 days |
| PayPal | 30 minutes to 1 day |
| Bank transfer | 1-7 days |
---
Popular Sports to Bet on in IL
Illinois is a huge state for sports, with some of the country's biggest sports teams based here. You can bet on all of their games, as well as games from competitions around the world. Here are some of the most popular sports and teams to bet on in IL:
The NFL is undoubtedly the most popular sport in the country, and the football season sees a huge number of bets being placed. The season may be short, but it's incredibly exciting and the Super Bowl is a huge event. Illinois is home to the Chicago Bears, a team that last had a winning record in 2018. Bears fans haven't had much to get excited about, but they can now bet on all games in the NFL.
The NBA is also hugely popular and, on some metrics, is catching up to the support of the NFL. It's ideal for betting too, with a huge number of games available to bet on most nights of the week during the regular season. In Illinois, most fans follow the Chicago Bulls, despite the team being a shadow of what it was back in the 90s. Still, the Bulls have had more success lately, reaching the playoffs in 2022.
The MLB is practically made for betting, with 2,430 games per season to bet on. Not only that, but statistical analysis and data are huge in baseball, so you'll always have a wealth of information to use when researching your bets. There are two different MLB franchises in Chicago, the Chicago White Sox, and the Chicago Cubs, though some fans in Illinois also support the St Louis Cardinals in neighboring Missouri.
Hockey may not be as popular as some other sports nationwide, but it has a huge following in Illinois. The Chicago Blackhawks are the state's home team and had a hugely successful period between 2010 and 2016, winning the Stanley Cup three times to end a 49-year drought. Hockey is fun to bet on due to the often-unpredictable nature of the game, and the Blackhawks are always exciting to watch.
The MLS is growing in popularity across the US, and while many soccer fans still prefer to watch the Premier League and other European competitions, the MLS can be just as exciting. In Illinois, the home team to support is Chicago Fire, and while the fans haven't had much to cheer about, they do have plenty of talented players on the field.
College Sports
College sports are also a popular betting option at IL sportsbooks. However, it's important to note that there are restrictions on which teams you can bet on. When the original sports betting bill passed, it stipulated that no bets were to be placed on games involving IL-based college teams. However, a new bill has since been passed to legalize betting on IL college teams in person. For now, though, few retail sportsbooks actually offer odds on these games.
---
Illinois Sports Betting FAQ
Is sports betting legal in Illinois?
Yes, sports betting was legalized in Illinois in 2019. The first retail and online sportsbooks then went live in 2020, allowing betting on all sporting events.
Are there restrictions on betting in the state of Illinois?
You need to be at least 21 years old to legally sign up and place a bet in IL. Your sportsbook will confirm your age by asking you to upload a copy of your ID when you join. Aside from that. You'll also need to be within the state lines when you bet. However, you don't need to sign up in person.
Which sports can I bet on in Illinois?
IL sportsbooks offer betting on a wide range of different sports. You can place bets on all games of the NFL, NBA, MLB, and NHL seasons. In addition, there's also soccer, tennis, motorsports, boxing, and mixed martial arts.
Are there IL sports betting promos available?
Yes, all of our recommended IL betting sites offer promotions to new and current bettors. You can claim them simply by signing up and following the instructions. Always check the full terms and conditions before you claim.
Sources