Top Sportsbooks for Reds Betting
Before the launch of sports betting in Ohio on January 2023, 16 sportsbooks were given licenses to operate in the state. Even as there are this many bookies to choose from, Ohio residents should be expecting more sportsbooks in the near future.
With each sportsbook bringing something different to the table, you can choose based on features you are more interested in. However, we recommend one of the following sportsbooks to get the value in terms of promos and security while betting on the Reds.
Sportsbook
Description of major promo
Promo code
Caesars
Perhaps the biggest promo in Ohio is the Caesars sign-up offer. With a minimum sign-up deposit of $10, new players can get up to $1,500 in bet credits if they lose their first bet.
CZR1BET
FanDuel
FanDuel offers new bettors a one-time offer of up to $1,000 risk-free bet on their first wager. You are required to deposit at least $5 to claim this promotion.
No code
DraftKings
Through the "No Sweat First Bet" promo, new players get up to $1,000 in free bets if they lose their first wager. However, you must first deposit at least $5.
No code
PointsBet
New bettors are treated to a five-day second chance promo with PointsBet. Players can earn bet credits up to $100 each day for five consecutive days after signing up.
WELCOME
Bet365
Bet365 offers newcomers $365 bonus bets after they place a qualifying bet of $1. Bettors are required to deposit at least $10 before they can claim the offer.
Newcomers are also eligible for baseball early payout offers if the team they back lead by 5 runs at any point in the game.
No codes
*Terms and conditions apply to all promotions offered
---
Popular Baseball Betting Types
Most of the terms used in baseball betting are similar to other sports. However, there are a few differences. To successfully wager on the MLB, you need to familiarize yourself with the terms and betting types available.
Moneyline – This involves choosing an outright winner of the game. Although baseball games do not end in ties, you can choose a tie in baseball betting with three-way moneylines. If there neither team can find separation after nine innings, it is considered a tie regardless of the outcome of the extra inning in real life.
Run lines – Run lines are similar to spreads in other sports. It shows the margin of victory, which is usually 1.5. The favorites would have a -1.5 runs, which would play out if the team wins with a 2+ point margin. A losing team can also result in a winning bet as long as they do not lose by more than the set line.
Over/Under– This betting type focuses on the overall runs in the game. Sportsbooks set a number and bettors would have to choose if the runs will go over or under that number. It is also known as totals and is mostly set at 8.5 in baseball. The Reds' fixtures ended in over 8.5 more often than not during the 2022 season.
Prop Bets – Here, you can choose game props, team props, and/or player props. These types of bets are centered around specific outcomes. You can bet on a certain Reds player to hit a home run in a game.
---
How to Place Bets on Reds
Research suggests that baseball is the most profitable sport to bet on, which is why we are interested in helping you get a piece of the pie. Placing a bet on the Reds is very straightforward, especially when you know your way around.
Choose and register with a reliable sportsbook. Make sure they are licensed to operate in your state.
Fund your account through your preferred payment method to claim the promotions being offered. Some sportsbooks approve of the use of cryptocurrency.
After funding your account, it is time to make your selection. With the MLB being the third-most bet sport in the US, finding them on most sportsbooks is fairly easy. You can also search for baseball or the Reds.
Make your selection. You can choose from moneylines, totals, futures, etc. For those interested in live betting, you have to wait until the game is underway before making a wager.
Input how much you are willing to use for one betslip and place your bet. Remember that you can play single bets or parlays.
Make sure to do some research before choosing the sportsbook to use. You can register on a few and compare odds and bonuses. Also, look out for bookies that are easy to navigate and have a reliable deposit and withdrawal method.
---
Reds Betting Tips
Although betting is no easy task, you do not have to be an expert either. With research, you give yourself a better chance of winning when you bet on the Reds and MLB in general. We have helped simplify things for you by putting together some tips that would help in your decision-making.
Head-to-head – The rivalry between two teams is one of the factors sportsbooks consider when setting odds. Knowing how Team A has faired against Team B in X arena over the years can help you make a pick.
Weather – With baseball being an outdoor game, weather plays a crucial role in the outcome of the game. Wind can affect the pitch and also the ability of the batter to hit. The Reds had a better batting average last season at night games, which resulted in more wins at night compared to their day games.
---
Types of promos available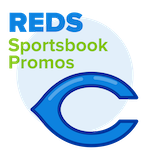 We discussed sign-up bonuses earlier in this guide. But there are several other promotions that you could take advantage of as you continue to wager on the Reds.
Sportsbooks release several promotions at different times, meaning there is always an opportunity to maximize your earnings.
Profit boost – Certain sportsbooks offer bettors the opportunity to boost their winnings.
Cash out – Here, bettors have the opportunity to payout whatever winnings before every event in the ticket are settled. It works best in a parlay. Some sportsbooks offer partial cash outs, where you can withdraw a portion of the winnings and keep the ticket active, while others offer only full cash outs.
Referral program – Sportsbooks give players the ability to get bet credits when they bring in a new member to the fold. There are conditions the player must meet before the bonus is given, one of which might be that the referred funds their account and places a bet.
Loyalty program – Bookies often reward loyal customers with bet credits as a way of saying thank you for their continuous patronage. These rewards are not exclusive to bet credits, as fans could be treated to a ticket to a baseball game.
---
MLB Promotions
Atlanta Braves
Colorado Rockies
Houston Astros
Kansas City Royals
Los Angeles Angels
Los Angeles Dodgers
Miami Marlins
Milwaukee Brewers
Minnesota Twins
Oakland Athletics
San Diego Padres
San Francisco Giants
Seattle Mariners
St. Louis Cardinals
Tampa Bay Rays
Texas Rangers
Washington Nationals
---
Ohio Team Promotions
---
Frequently Asked Questions
Who can bet on the Reds?
Anyone physically located in Ohio can place a wager on the Reds. Residents of Ohio can also place bets on their favorite baseball team outside of the Buckeye State, as long as they are in a state where sports betting is legal.
What is the legal age for betting in Ohio?
The minimum legal age for betting in Ohio is 21.
Are my winnings subject to tax in Ohio?
Every winning in Ohio is subject to both federal and state tax. In Ohio, the state tax is at 4%, while you are expected to pay a federal tax of 25% on all winnings.
What sportsbook provides the best value when betting on Reds?
Odds change from sportsbook to sportsbook based on several factors. While some might offer better odds to stay competitive, always consider other factors that will make your overall betting experience great.